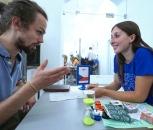 The sixth year of the European Day of Languages festival took place on 26 September 2023 at Hybernská Campus. This year, the festival focused on the languages of Central Europe. The European Commission Representation in the Czech Republic co-organised a speak-dating event, in which interested participants could try out lightning conversations with professional teachers of EU languages.
27 September 2023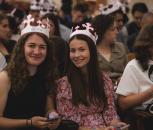 The Institute for Language and Preparatory Studies opened the academic year 2023/2024 on Friday, 8 September. Representatives of the university and the institute greeted nearly 250 students from four continents at a gathering in the Great Auditorium. While the new academic year does not start until 1 October at Charles University, the students of the Institute for Language and Preparatory Studies have already had their first days of classes.
11 September 2023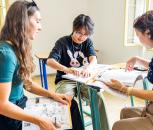 In the spirit of positivity and anticipation, we gather to mark the official commencement of the academic year 2023-2024 at the esteemed Institute for Language and Preparatory Studies, Charles University. This academic year holds the promise of preparing students for their university studies, whether in Czech or English, and it resonates with those who join us online, their visas pending, spanning across the globe.
5 September 2023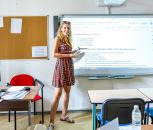 Teaching Czech as a foreign language is our specialty at The Institute for Language and Preparatory Studies of Charles University (ÚJOP UK), a dedication we've upheld for nearly 70 years. We offer diverse Czech courses with varying lengths, intensities, and focuses. Being the only full member of ALTE in the Czech Republic, we provide internationally recognized exams for Czech as a foreign language.
31 August 2023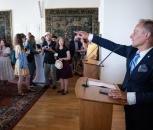 They travelled to Poděbrady from 22 countries to learn or improve their Czech. After four weeks of intensive classes, all of the 71 participants of the Summer School for Czech Expatriates, organized by the Institute for Language and Preparatory Studies Charles University, received their certificates at the closing ceremony of the course held at the grounds of the Ministry of Foreign Affairs. The Ministry, together with the Ministry of Education, Youth and Sport and the House of Foreign Cooperation, participates in organizing the summer school. 
18 August 2023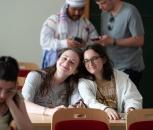 Almost all of the 60 participants from 22 countries from all over the world were able to attend the opening ceremony on 24 July. For some it only meant several hours of train ride to Poděbrady, others travelled for three days and three nights - some fellow countrymen arrived from as far away as South America and Myanmar.
24 July 2023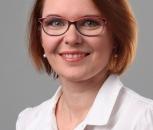 Although she works as a financial manager in an international company, Libuše Adamczyková decided to get involved in teaching Ukrainian refugees to help them better integrate into Czech society. She contacted an organisation in Roztoky, where she lives, and then one day she found herself standing in front of 15 students in a classroom. That is how she started teaching Czech to foreigners. 
20 July 2023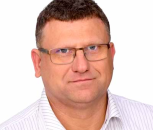 Teaching Czech is a common activity for secondary school teachers, but how do they cope with the new position of a teacher of Czech as a foreign language? Jindřich Foltas takes care of pupils with a different mother tongue at Bílovec Secondary School and for a long time he was looking for a course that would help him answer his questions. He found the right one at the Institute of Language and Preparatory Studies.  
11 July 2023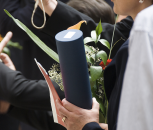 If you are interested in studying at university and already speak Czech at B1 level, we have a great opportunity for you - the FAST programme. In only two semesters, you will achieve level B2+ to C1 in Czech, which will make it possible for you to study at university. Successful students will receive a certificate of language proficiency that is recognized by more than 80 faculties of public universities.
19 June 2023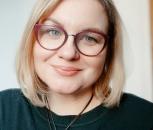 She is the most loyal participant in the Methodological SYMPOSIUM for teachers from abroad and her infographics emerging from each lesson are a hit. I chatted with Anna Jakubowska from the University of Warsaw about the inspiration she draws from the symposium for her teaching and about the intricacies of Czech. 
15 June 2023