---
Have you paid for the course and received a scanned copy of the confirmation of admission to study from us? Now you need to schedule an appointment at the consulate and apply for the visa. Follow the instructions, obtain the visa and come to the Czech Republic to get free university education.
You can apply for a visa: for a stay of over 90 days (long-term) or for a long-term residence for the purpose of STUDY and OTHER.
The first application must always be submitted to a Czech embassy abroad in person.
The most common procedure is to apply for a long-term visa (issued for a maximum of 1 year). In the case of further studies, the student applies for a long-term residence (issued for a maximum of 2 years) while in the Czech Republic. However, it is also possible to apply directly for long-term residence in your country as a first application.
Difference in purpose of stay
STEP 1: MAKE AN APPOINTMENT FOR AN INTERVIEW AT THE EMBASSY
You apply for a residence permit in the Czech Republic at Czech embassies abroad. Find your embassy / consulate general on the website of the Ministry of Foreign Affairs of the Czech Republic, read the instructions for scheduling an interview and then register for it.
Your application will be processed by the Ministry of the Interior of the Czech Republic. You can also check the Ministry's official website and the Information for Foreigners section.
STEP 2: PREPARE THE REQUIRED DOCUMENTS
The embassy/consulate has scheduled an appointment for you to apply for the visa. Prepare your application documents.
You have received the following documents from us:
official confirmation of admission to study

study contract

accommodation contract (if you have booked and paid for accommodation)

health insurance contract (if you have booked and paid for the insurance through us)
You will need to secure other documents yourself.
For a list of documents required for a long-term visa application, click here.
For a list of documents required for a long-term residence application, click here.
The following documents are usually required:
international travel document/passport (passport must be valid for at least 3 months beyond the expiry date of your future long-term visa.)

a bank statement showing the amount of funds in your account

criminal record certificate

notarized parental consent for an underage student to travel abroad
The documents you provide yourself must be translated into Czech by a court translator. You can order the translation of documents from us.
STEP 3: COMPLETE AND SUBMIT YOUR VISA APPLICATION
Download the application form. Print it out and fill in the form as instructed.
| | |
| --- | --- |
| long-term visa | long-term residence |
| | |
| | |
STEP 4: VISA INTERVIEW FOR ENTERING THE CZECH REPUBLIC
Applying for a long-term visa often includes a short interview. This makes many of our prospective students nervous. For the first time in your life, you are forced to go through a major administrative procedure, and you also have to say something. In the Visa Interview section we explain how the interview works and how to prepare for it.
STEP 5: WAIT FOR THE VISA TO BE ISSUED
Once you have submitted your application at the embassy/consulate, just wait. The deadline for processing a student visa application is 60 days.
You can check the status of your application on the Immigration Portal of the Czech Republic website.
Enter your application number in the yellow box. The application number is shown on the document you received when you submitted your documents. For example: PETE123456789.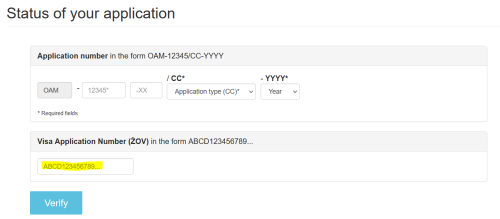 Please note: If the registration system notifies you that your application has been approved, you do not need to email or call the embassy/consulate immediately. Its staff will contact you and invite you to collect your visa.
STEP 6: GET YOUR VISA IN YOUR PASSPORT
If the embassy/consulate official who informed you that your visa was approved did not specify a date and time when you can collect your visa, you can choose the time yourself. Check the embassy/consulate's website to find out their opening hours. There will probably be information on what time you can collect your visa.
At some consulates, this process is carried out the same day, while at others you will have to return for your passport the following working day.
Please note: You must bring documents with you in order to have your visa placed in your passport. These are your passport and your insurance policy.
If you have not yet purchased insurance, you can do so through us. To do so, you must write an email to the academic assistant. Basic information about the insurance can be found here.
Be sure to inform your academic assistant that you have been granted a visa. We need this information to ensure your smooth arrival and start of classes.
STEP 7: REPORTING DUTY ON ARRIVAL IN THE CZECH REPUBLIC
Students from non-EU and EU countries are obliged to comply with the reporting obligation upon arrival in the Czech Republic, unless the accommodation provider does it for them. Students from EU countries have this obligation within 30 days of entering the territory, non-EU students within 3 days.
You must report to the local branch of the Foreign Police.
If you are staying in the dormitories of ILPS CU, you do not need to report to the Foreign Police, we will do the reporting for you!
ILPS CU INFOPOINT - In case you need assistance.
Need assistance? If you have any questions, our InfoPoint is here to help you.
email:
WhatsApp +420 778 754 481